Marshalltown, IA, Pork Production Facility
Marshalltown Strong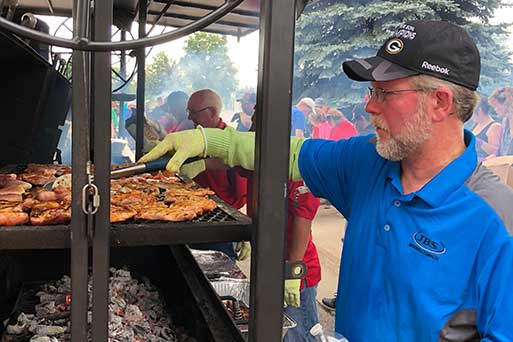 On July 19, 2018, an EF3 tornado devastated major parts of Marshalltown, IA, a town of 27,000 residents and home to one of JBS USA Pork's most important production facilities. Marshalltown suffered a direct hit. Seventeen people were injured, more than 700 homes were damaged or completely destroyed, and countless businesses were shut down – some of which will never return. Remarkably, no lives were lost.
The path of a tornado is an unpredictable and random event. After ravaging downtown, the vortex lifted into the air and headed northeast towards our JBS USA pork plant. While our facility did not take a direct hit, it did suffer significant damage, as the tornado peeled the walls off two major sections of the distribution center, making millions of pounds of high quality pork products unusable and shutting down the plant temporarily. Fortunately, no JBS USA team members were injured.
The residential area around the plant suffered far greater damage. Private homes stood shattered with gigantic holes punched through their walls and their roofs peeled off and tossed onto the street. Metal street signs and poles were twisted like rope, houses leaned as if they would fall at any moment, cars crushed from falling debris lined the streets, and sidewalks were scattered with broken tree limbs, leaves, electrical wires, bricks, glass, clothes and people's personal items. The 'B' and the 'S' from a large metal JBS sign lay draped over a neighbor's roof. The skyline was filled with mangled trees whose bare limbs looked like bony fingers reaching for the clouds.
JBS USA employs more than 2,300 team members in Marshalltown, many of whom suffered losses or even lost everything during the calamity. A horrific event like a tornado immediately changes people's lives forever, but the JBS USA Marshalltown team wasted no time rising to meet the needs of the community and provide food, shelter and clothes where they could. Following the wreckage on Thursday, team members spent much of the weekend cleaning up the neighborhood around the plant, while company officials met with the Governor of Iowa, the Mayor of Marshalltown and several city councilmembers to better understand the damage and identify ways our team could help further. Fellow JBS USA team members from our Beardstown, IL, pork facility even travelled to Marshalltown over the weekend to lend a hand and support their neighbors in their time of need.
On Sunday, July 22, JBS USA Marshalltown, in partnership with Iowa Select Farms, grilled and provided 1,000 brats, 1,000 hot dogs, 1,000 hamburgers and more than 3,000 pork chops to several thousand Marshalltown residents impacted by the tornado. They also directly delivered food to residents who could not travel to the event and contractors out in the field who were helping restore power and other services to Marshalltown residents. The free barbecue was a celebration of the strength and determination of Marshalltown, and just one small way we at JBS USA hoped to give back to a community that has supported us for decades.
Together, everyone worked hard all weekend so that the facility could open back up on Monday, provide our team members with a paycheck and bring some sense of normalcy back to the city. To directly support our workforce, we committed to paying all Marshalltown team members for a lost day of work due to the plant shutdown and the resulting reduced work hours, a total of nearly $275,000. The company also provided approximately $350,000 in additional financial assistance to those team members who were directly impacted and displaced by the tornado.
Two weeks later, in early August 2018, JBS USA invested $1,000,000 in the Marshalltown community as part of the company's efforts to assist the town and support long-term rebuilding efforts and recovery needs. $200,000 was donated to Mid-Iowa Community Action, Inc. (MICA), a private, nonprofit organization that has served children and families in vulnerable situations in central Iowa since 1965, as well as $200,000 to the Rebuild Marshalltown Fund, which was established by the Community Foundation of Marshall County to raise funds to support community rebuilding efforts. Combined with individual donations from JBS USA and Pilgrim's team members via the United Way, the company provided an additional $600,000 to assist Marshalltown team members and the Marshalltown community.
We know this tragic event will not be soon forgotten. The hashtag #MarshalltownStrong can still be seen everywhere across the town. In the face of tragedy and destruction, the community rallied together, and as the largest employer in Marshalltown, JBS USA was sure to be right there alongside them. However, we are not finished. Since the tornado, JBS USA Marshalltown has taken the following additional actions to help its team members and the community:
Case management claims for just under 400 impacted employees (391 total encounters)
Provided 11 hotel rooms as temporary housing for various displaced team members through the Disaster Resource Center
Fed nearly 4,000 community residents and volunteers
Donated nearly 20 combo boxes, bins and vats full of products, such as diapers, water, non-perishable goods, clothes, cleaning and home supplies, etc.
Served as a donation and food bank for team members and community
Washed displaced team members clothes at other team members' homes
Took displaced team members grocery and home goods shopping
Stationed at the Red Cross Command Center to ensure no team members and families were homeless
Distributed more than $40,000 in supermarket gift cards
Provided rental property deposits for displaced team members in amounts of $500
Provided home owners with a $1,000 deposit to go toward insurance deductibles
Helped team members locate new rental properties and offered them new means of transportation